Description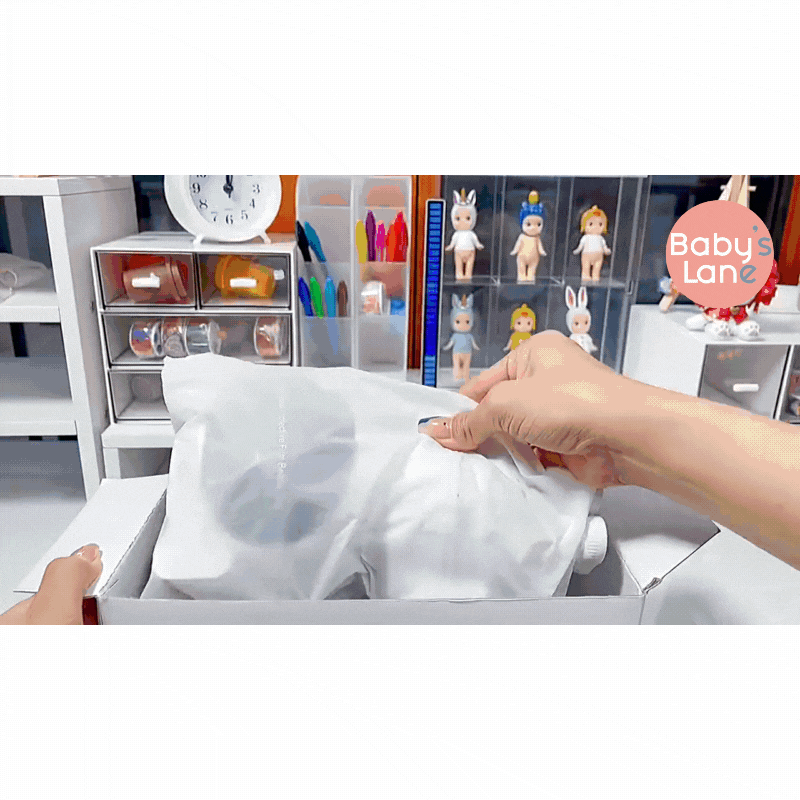 Want to make your loved ones dream with The Perfect Gift?
Original and unique, this little astronaut has it all. It is the ideal gift to pleasantly surprise the person to whom you are giving it.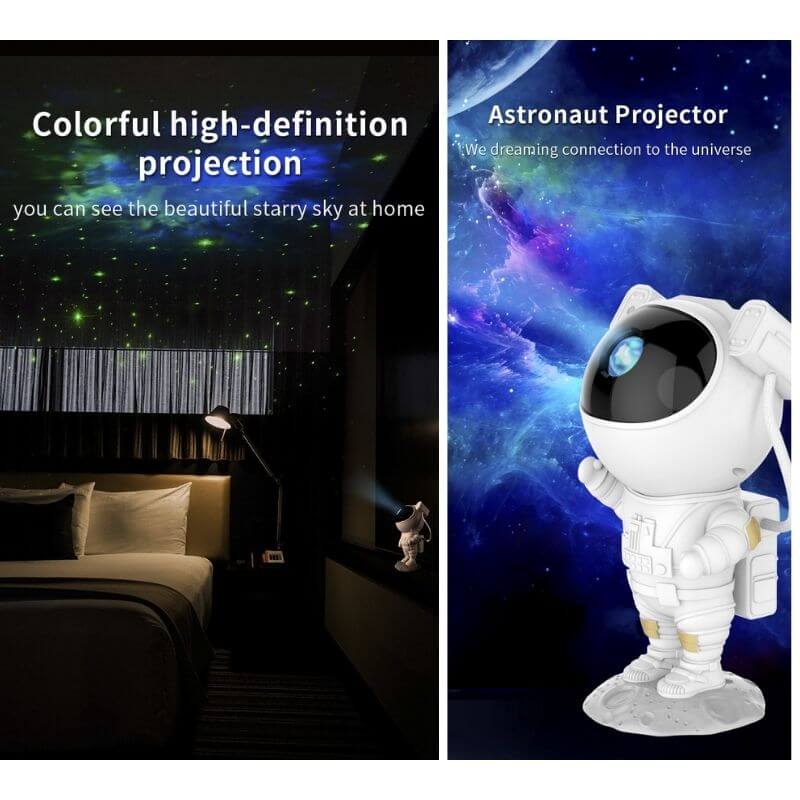 The dream of young and old
For children and adults who are passionate about space and starry skies or not, this projector lamp is so Great.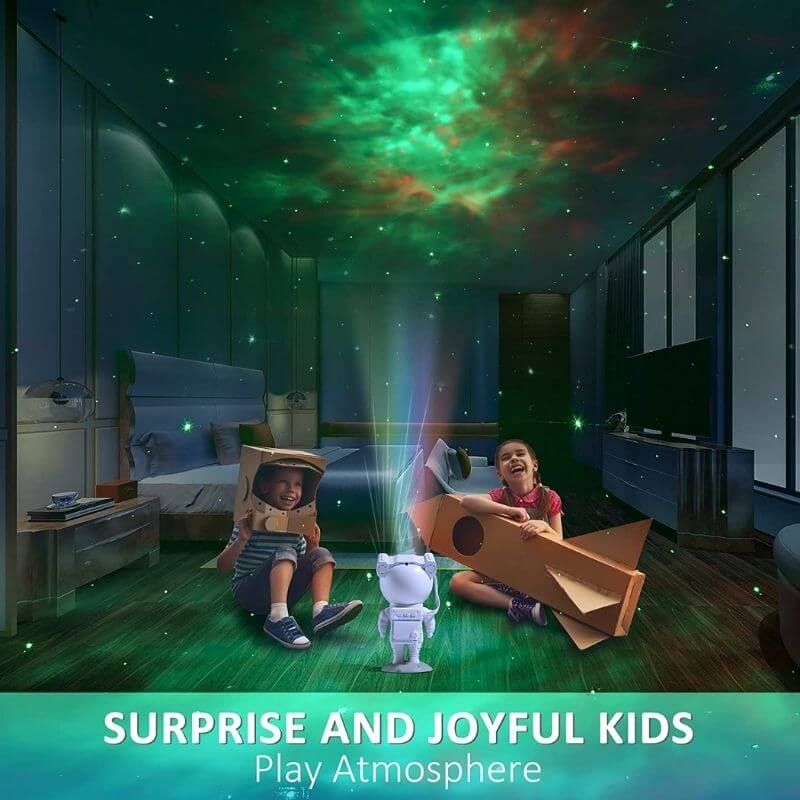 Breathtaking Starry skies and Northern Lights
Projecting a starry sky and nebulae, this little astronaut brings a pleasant and relaxing atmosphere.
It is ideal for livening up your party, relaxing, getting away from it all and making people dream.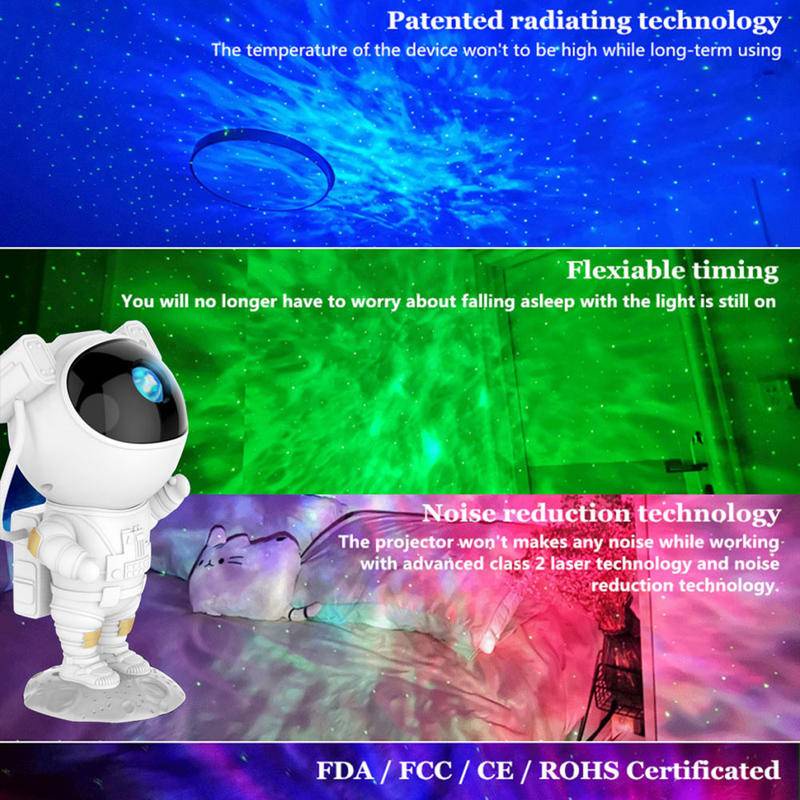 Admire a splendid starry sky wherever you want
With its magnetically held head that can be pointed in any direction you want, you can project multicolored stars and nebulae wherever you want.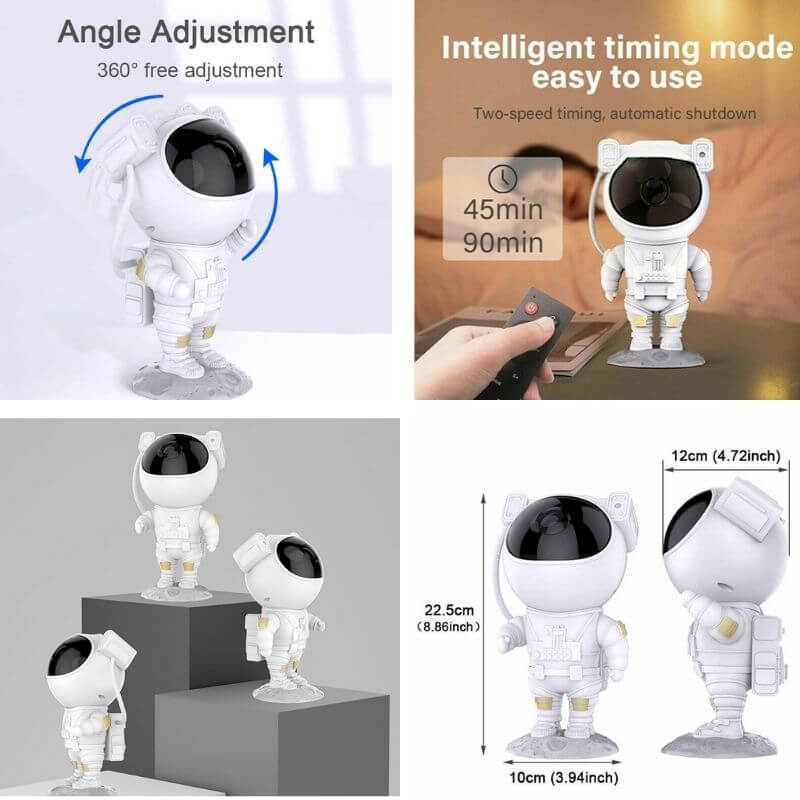 Easy to use and to carry
Rotatable: The head of the Astronaut projector can be adjusted 90 degrees, the arm can be adjusted 360 degrees, it can be rotated to any angle, and it is easy to move and use.
Usage: The starry sky projector has a wide projection range and is suitable for many environment, such as bedroom, office, party, …
The operating modes can be set using the supplied remote control or using the 3 buttons on the back of the toy.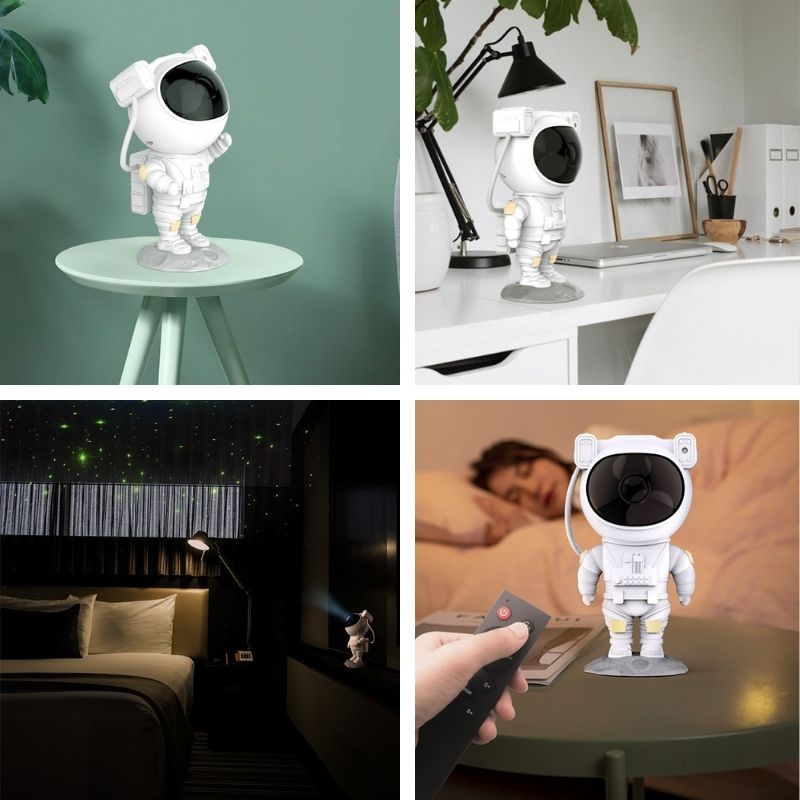 A perfect decoration
In addition to its projection function, this small astronaut with a nice and minimalist design will bring an original decorative touch to your interior.
A Real little wonder to decorate your children's room and make them dream.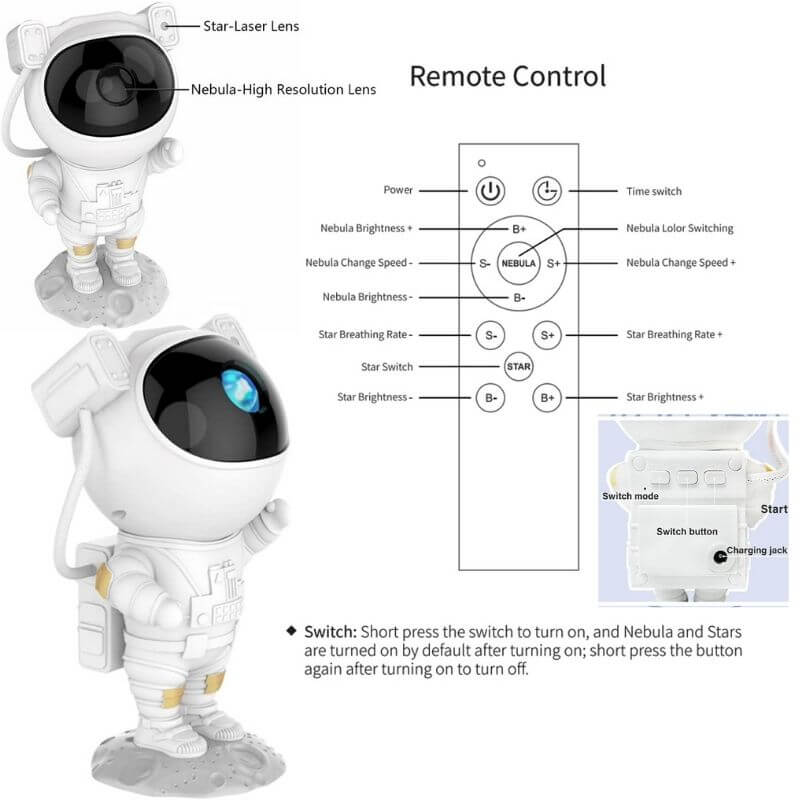 Fall asleep under a starry sky even at home
Timer Mode: The Galaxy projector with smart sync mode, worry-free and convenient. It has 2 timing speeds, 45 minutes or 90 minutes. And it can shut down automatically.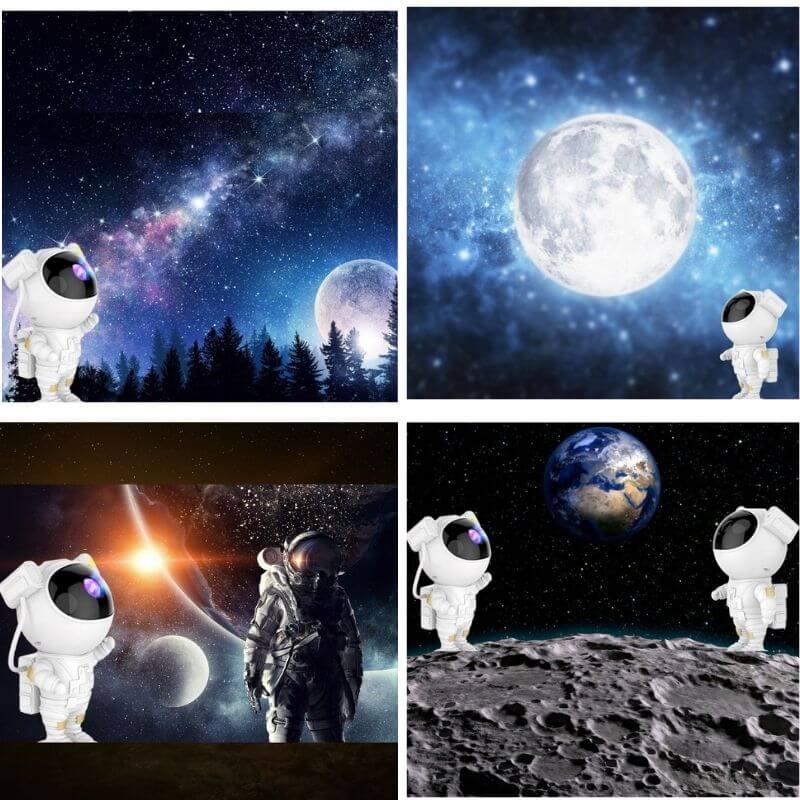 Starry Sky
This starry sky projector simulates the real starry sky, twinkling star, bring you a sense of relaxation.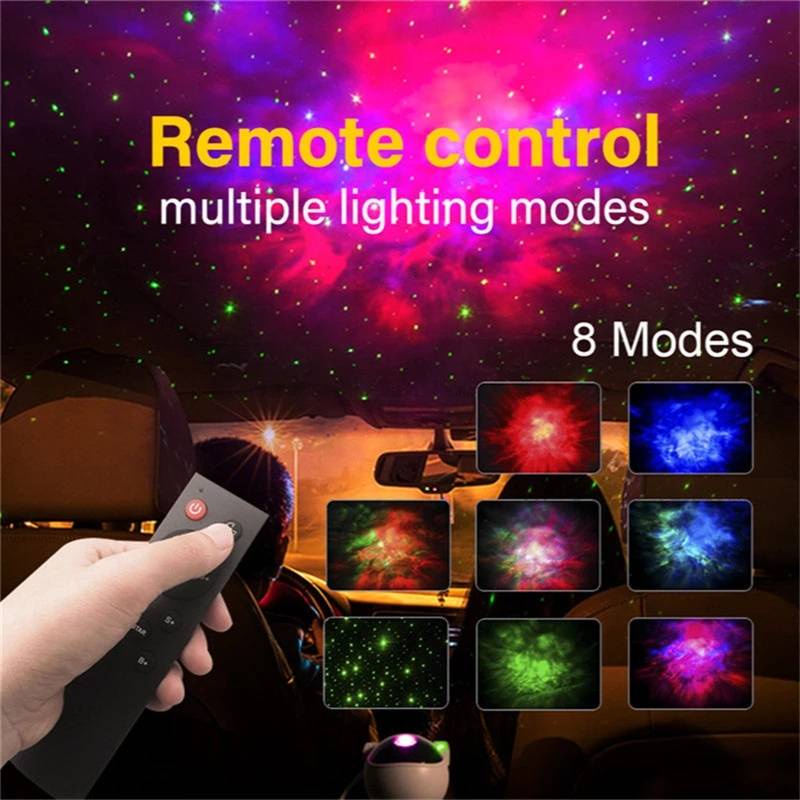 Remote control
With remote operation, the projector has 8 kinds of nebula effect display, adjustable change speed, adjustable nebula brightness. Stars or nebulae can be displayed separately.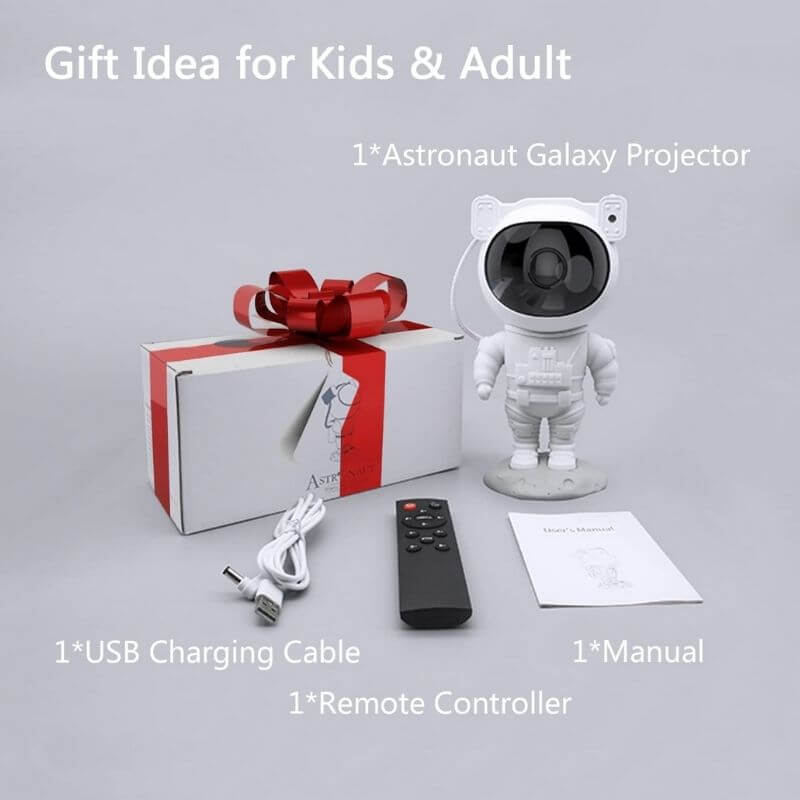 The Perfect Gift for all
This astronaute is the perfect gift to please your loved ones with unforgettable memories.
Technical Characteristics :
Material: plastic (ABS / PC / PVC)
Laser wavelength: 532 nm
LED power: <5W
Control mode: infrared remote control (<5m)
Automatic switch-off: after 45 minutes or 90 minutes as desired
Astronaut power supply: 5V DC / 1A – standard smartphone-type power supply unit (not supplied) – USB cable supplied
Remote control power supply: 2 AAA type batteries (not included)
Dimensions: 23×11 x H23 cm
Precautions for use:
The device is a projector of intense light; the user should not look directly at the light source.
Additional material required:
2 AAA type batteries for the remote control
5 V DC / 1A USB power adapter for smartphone or tablet
Product information:
Material: ABS + PVC
Input voltage: 100-240V 50 / 60Hz 0.4A
Output voltage: 5V = 1A Power: 5W
Dimensions: 245 * 123 * 115 (mm)
Packing list
Astronaut projection lamp * 1; base * 1; power cord * 1; manual * 1; remote control * 1