Description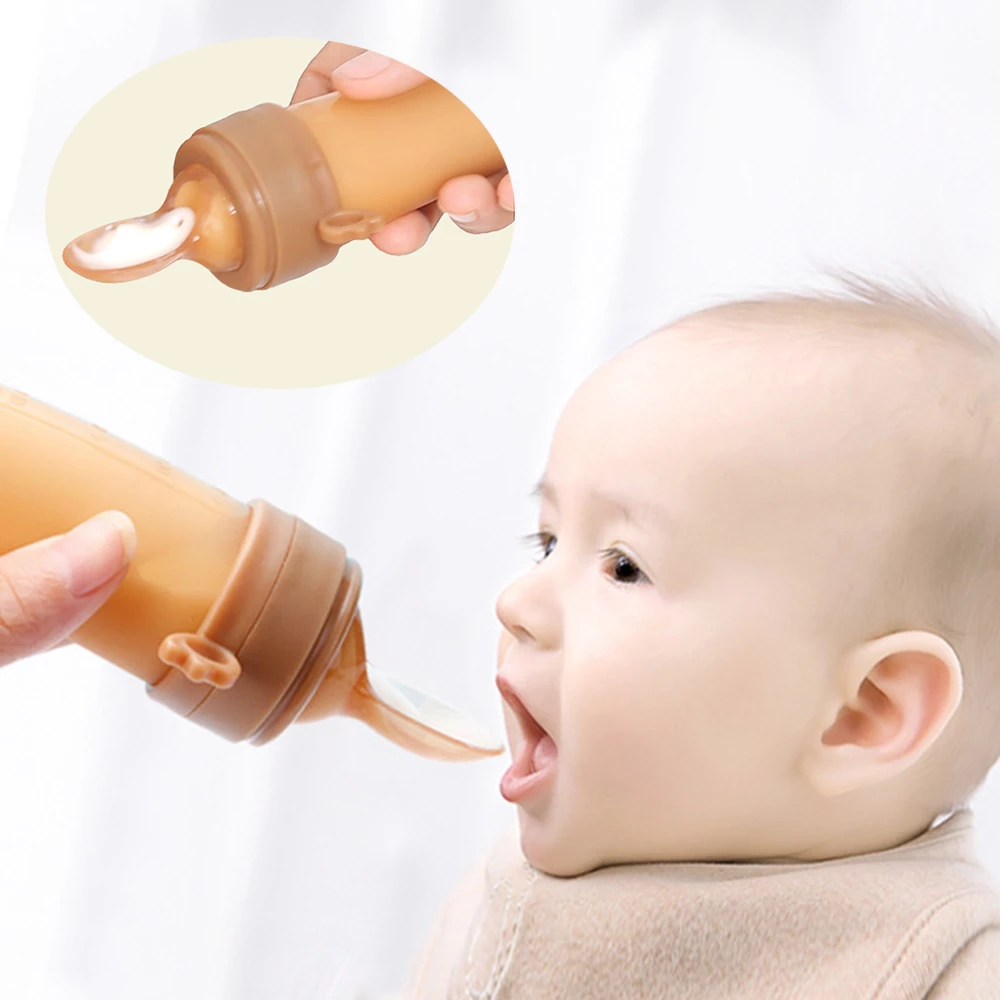 The easier and safer way to feed baby
Feeding baby has never been easier, more enjoyable and convenient wherever you are. It is the solution to give the meal and fruit to your child without putting it everywhere and in complete safety (avoids the risk of suffocation).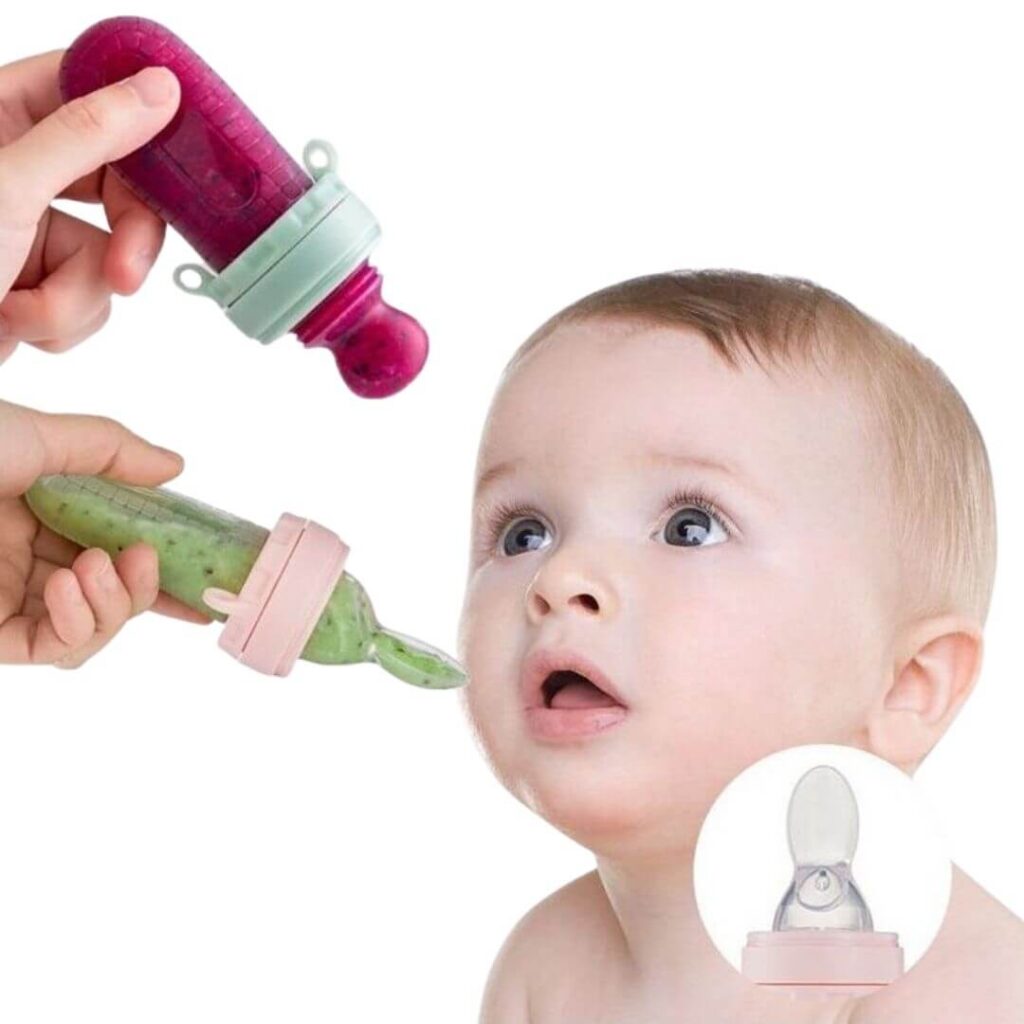 The anti-dirt multifunction bottle for travel and on the go
For baby's meal, dessert or snack, the spoon & fruit teat bottle is ideal to be used anywhere and in all circumstances.
At home, outing or traveling, its practicality, its small size and its elongated shape make it essential and not bulky. You just have to slip it in your purse and use it when your little one is hungry.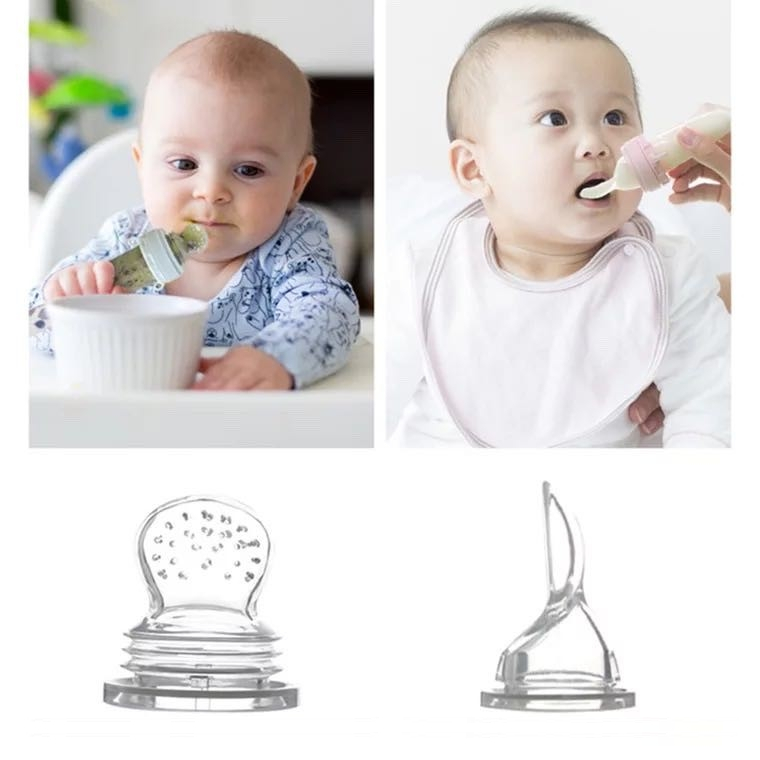 An easier transition from Bottle to Spoon
If your baby is having trouble adjusting to their new way of eating, our bottle with spoon & fruit nipple makes the transition from bottle to spoon with your child with ease and the introduction to solid foods with ease serenity.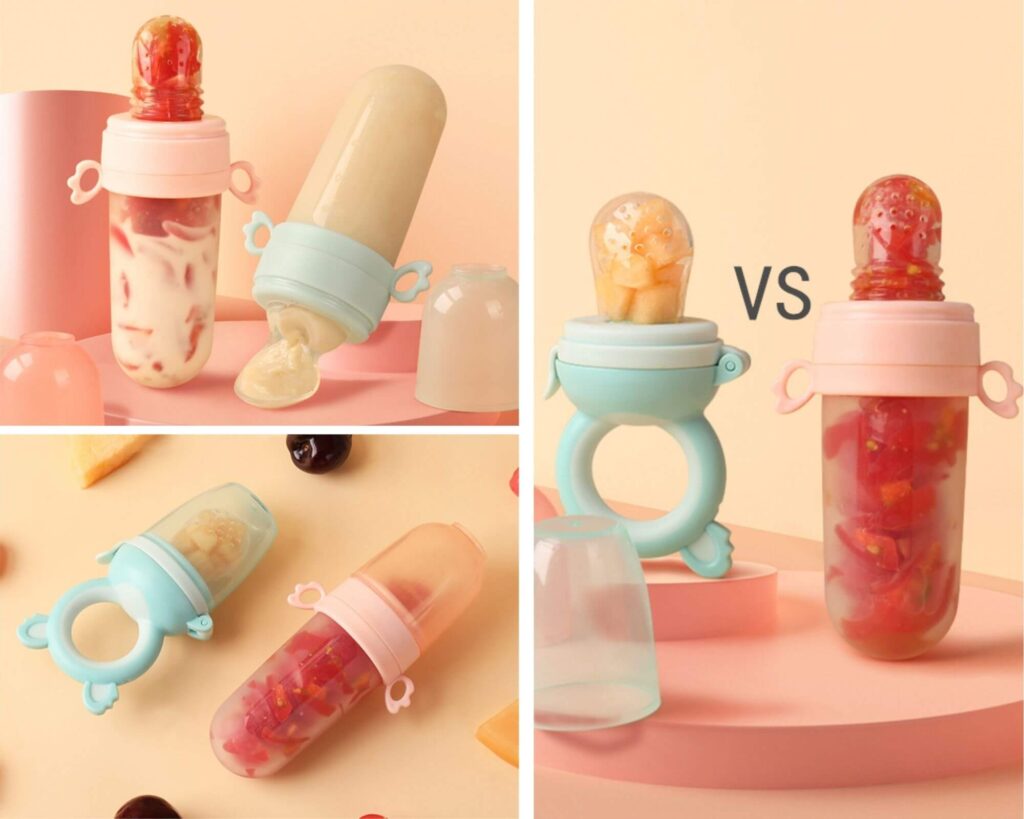 3 teat tips to enjoy all the types of meals safely
Equipped with a spoon tip and 3 flexible and soft silicone fruit teat tips, our 2 in 1 bottle will help baby get used to diversification quickly.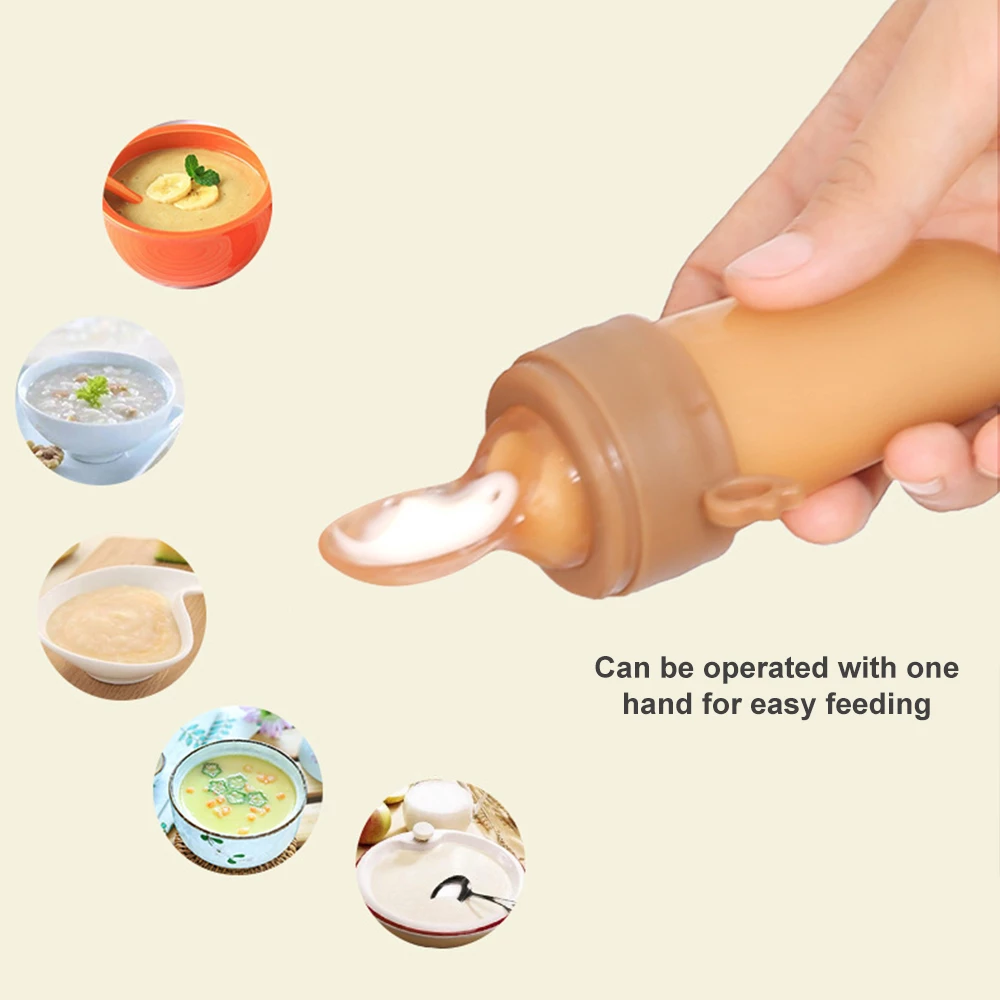 Help baby learn to eat on his own
Learning to eat on your own has never been so enjoyable for baby. With its integrated spoon & pacifier bottle, baby will enjoy eating his fruit or vegetable puree on his own.
Its ergonomic shape is perfectly adapted to its small hands and its small mouth.

A bottle with 2 features (4 tips)
Use the spoon tip to give baby his vegetable puree or these cereals and 1 of the fruit pacifier tips to place his dessert, pieces or fruit puree.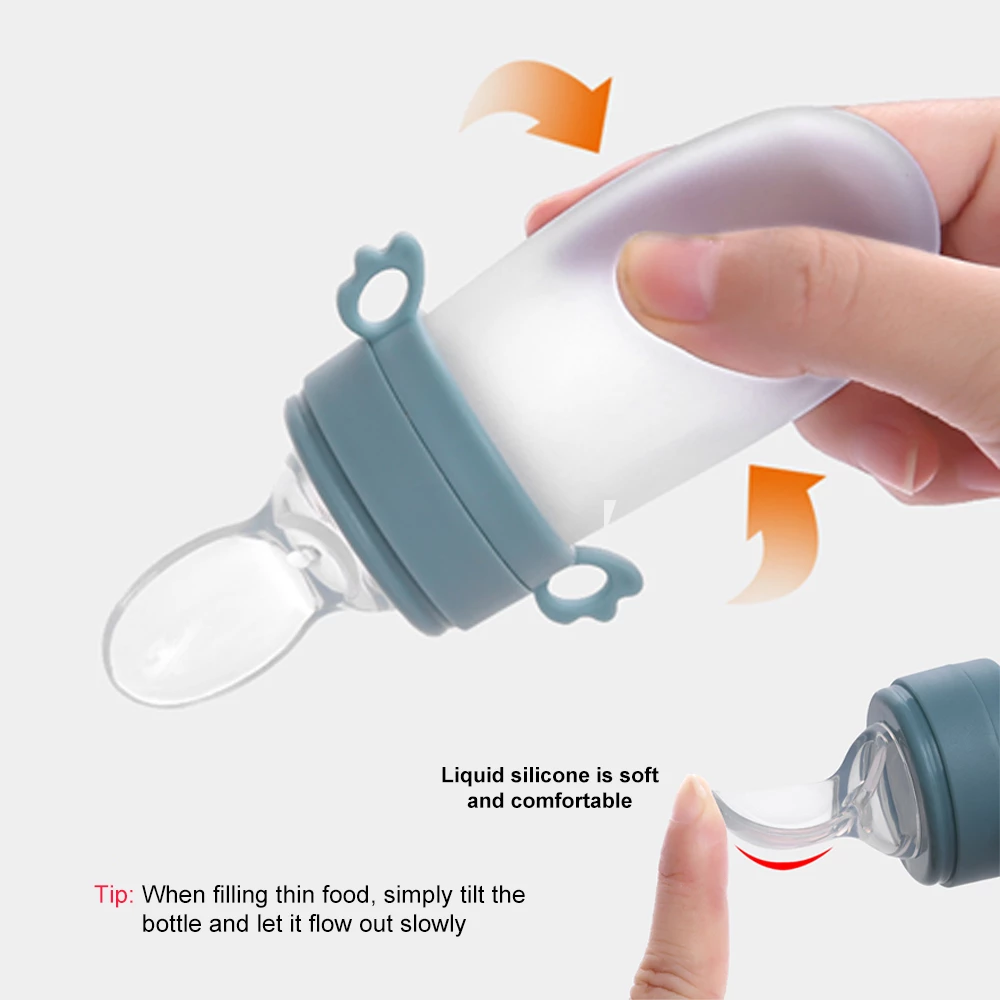 Practical, innovative and easy to use
Feed your baby with one hand with our 2 in 1 bottle, you just need to squeeze the reservoir that contains the food to release the puree in the spoon or the fruit pacifier.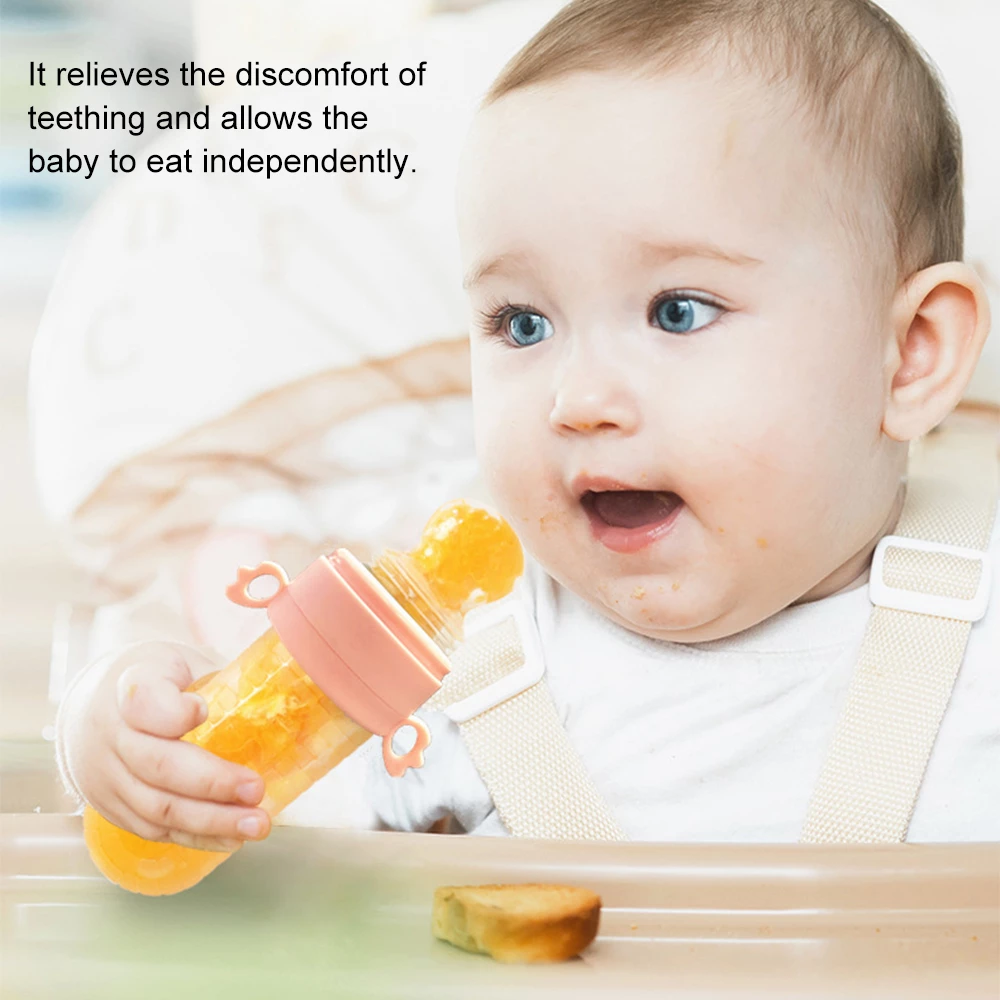 Easy to use
To fill it, nothing could be simpler. Open the lid and pour in the baby fruit or vegetable puree, choose the tip you want to use and close the bottle.
Now the choice is yours: give baby his meal or let him eat by himself.

Features
Capacity of 40ml.
Possibility to wash it in the dishwasher.
Do not put in the microwave.
For children from 4 months old.
Material: Food grade liquid silicone without BPA, phthalates or PVC
Color: Pink, green, blue, bronze
Capacity: 40ml
Net weight: about 55g
High temperature resistance.