No more incessant crying and feelings of discomfort for your baby due to colic.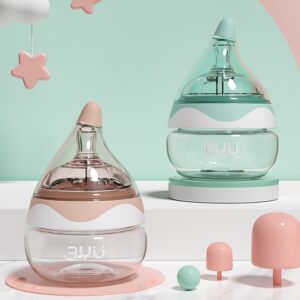 The anti-colic valve system prevents the risk of colic for your newborn baby as well as gastric reflux problems.
Very practical, its wide 55mm neck makes your job easier when preparing the bottle and cleaning it.
The tightness disc will promote uniform mixing, prevent powder clumps in the nipple and leakage during transport.
The BYU bottle is Bisphenol A (BPA) free and phthalate free. It is therefore safe and harmless to the health of your baby.
For sterilization, you just need to soak the bottle in boiling water for about 3 minutes.
1. Specially designed small round holes for newborn babies, slow speed and anti-choking
2. One-way anti-colic valve, physical pressure-sensitive air return, reduce air bubbles, and drink milk smoothly
3. The design of the leak-proof card slot on the top of the dust-proof cover, does not leak
4.55mm ultra-wide mouth design, easy bottoming, clean and transparent at your fingertips
Characteristics:
Glass combination baby bottle.
Pure material
Environmental protection
Materials: silicone ​​and glass
Wide collar
No odor
High temperature resistance
Anti-colic
Inductive gravity ball
Comfortable drinking from every angle.
High permeability explosion-proof glass
Resistant to cold and heat.
Capacity: 80 ml.
Age: from 0 to 9 months.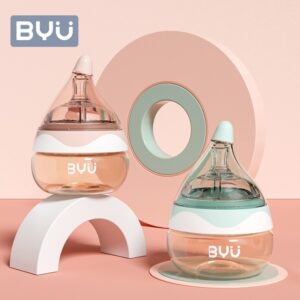 Package contents:
1 x Baby Glass Bottle anti colic.